Research
Our Shared Agenda for the Coming Four Years
Despite a global pandemic, colleagues from 10 prestigious universities (UvA, LUISS, UCPH, UBB, Paris1, UoW, UNIGE, UL, WUT, FGV) and 6 leading non-academic institutions (CEPS, IAI, GMF, PATRIR, FIDH) have joined the ULB in subscribing to a shared interdisciplinary research agenda seeking to shed light on the growing dissensus surrounding liberal democracy and the rule of law within and beyond Europe. The topic is not only timely but also intellectually challenging for scholars from across the social sciences, including political scientists, legal scholars, sociologists as well as political theorists. If dissensus surrounding liberal democracy has been studied, its implications for the European Union – in its internal and external action - have remained largely unexplored, both theoretically and empirically. After several rounds of enriching discussions among us, we have set for ourselves an ambitious research agenda seeking to:
Conceptualize the seemingly mounting dissensus surrounding liberal democracy.
Unpack the ambiguous role different actors can play as both champions and challengers of liberal democratic norms, values, and practices.
Assess the impact of increased dissensus regarding liberal democracy on the policy instruments of the EU and its capacity to act in its internal and external policies.
The four-year-long intellectual journey GEM-DIAMOND's work plan foresees brings together not only a diverse community of dedicated academics and experts with different disciplinary backgrounds but also 16 very promising early-stage researchers. These 16 doctoral fellows, each one emerging from a very competitive selection process organized over the summer, are truly the lifeblood of our joint effort. Throughout the selection process, they have convinced us that they are intellectually motivated and well-equipped to produce cutting-edge research on the state of liberal democracy and the rule of law in the face of mounting dissensus within. We look forward to collaborating over the coming years.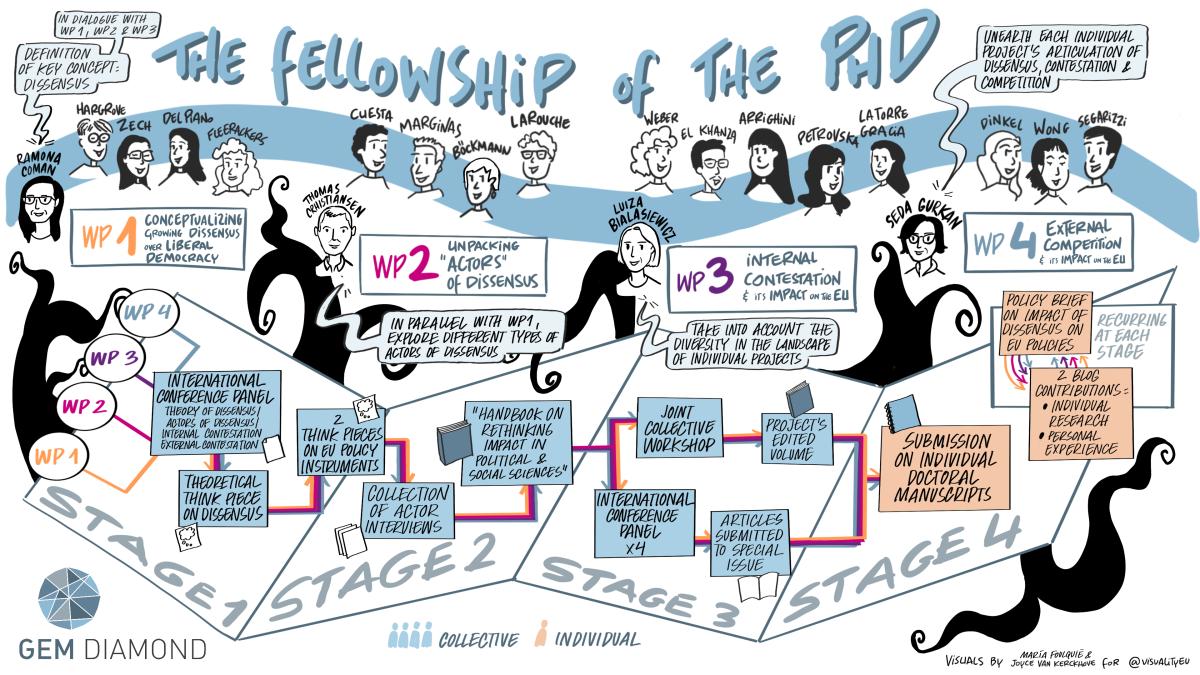 Dissensus - Our Shared Concept
Central to the project's ambition is to collectively tackle the concept of dissensus.
A shared working understanding of dissensus is to be the conceptual north star for our 16 fellows as they seek to unpack the mounting critique of liberal democracy and the rule of law as well as its implications for the EU.
Dissensus can be understood in different ways, yet it is this shared concept linking GEM-DIAMOND's 16 Ph.D. doctoral dissertations. GEM-DIAMOND's shared research journey, therefore, start with a collective effort aimed at elucidating this concept in light of contrasting theoretical reflections.