Pushing, shifting and pulling: the EU is recalibrating its geopolitics
GEM-DIAMOND Fellow Serafine Dinkel analyses EU geopolitics following a recent publication and panel discussion at the College of Europe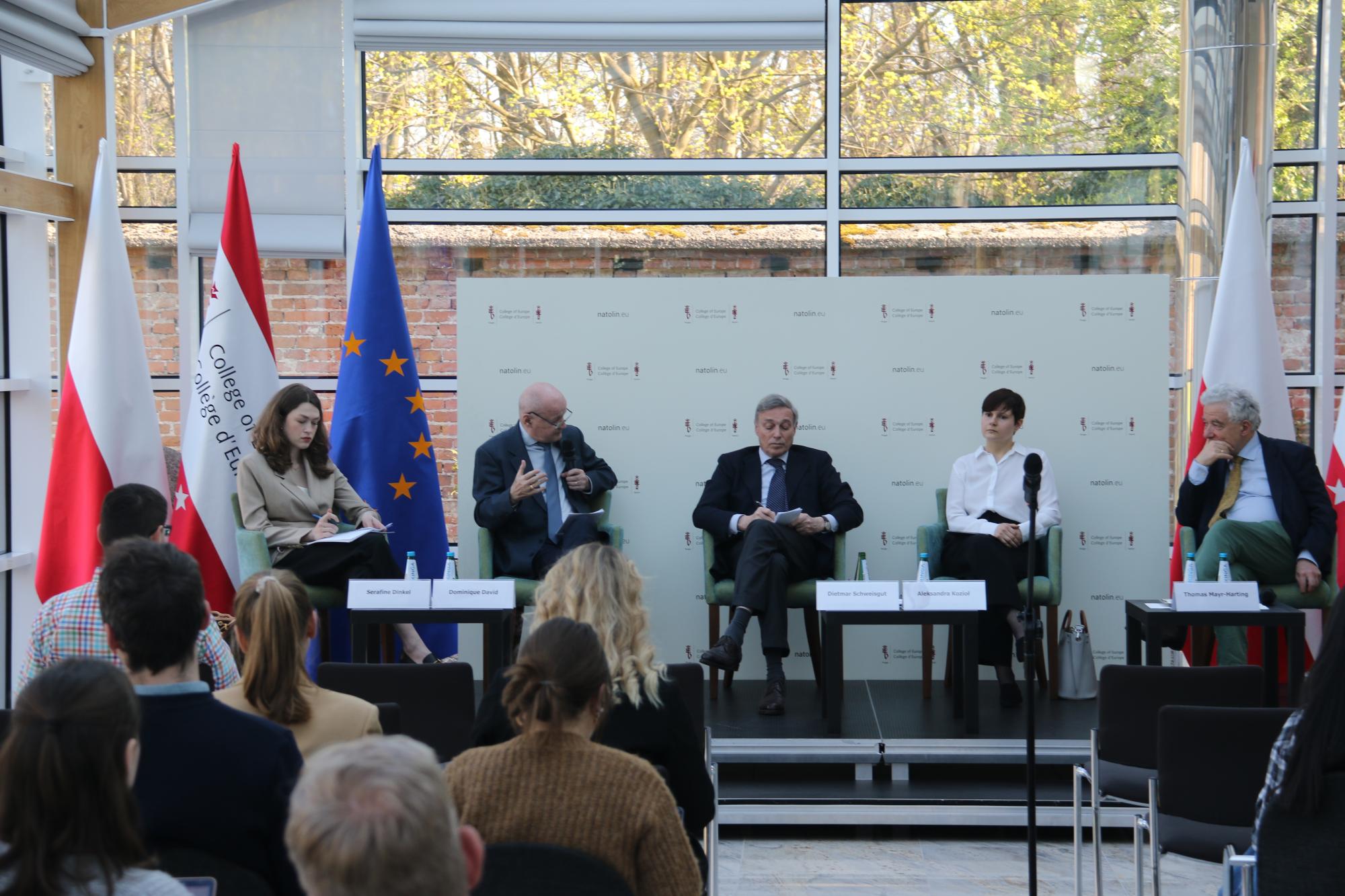 Since Russia launched its full-scale invasion of Ukraine in February last year, the EU and its member states have had to make good on their promise to face up to geopolitics. But behind the relative unity of its reaction to the war, there remain disagreements both in how to acutely react to the crisis, and how to define the EU's future geopolitical and institutional setup. It needs to reconfigure its neighbourhood and enlargement policy and define its strategic ambition vis-à-vis the US and China, all the while confronting conflicting visions for its internal functioning. But this is also an opportunity to leverage its normative appeal.
This text draws on my article in Integration (1/23), as well as the Weimar Plus Discussion on Geopolitical Europe at the College of Europe in Natolin in which I participated in April 2023.
Strategic autonomy, once again
French President Emmanuel Macron's remarks on the margins of a recent visit to China sparked controversy – once again. His remarks regarding a need for a more autonomous European Union vis-à-vis the United States came at a bad time: China was just about to launch a military exercise around Taiwan, and the US has proven in the past months that it remains the key provider for European security within the framework of NATO. It has also been the driving force in the West's response to the war in Ukraine and is the largest donor of military assistance.
Partners were right to be irked both by the timing and the contents of his comments. But Macron wanted to return the strategic debate to one he had initially launched in 2017. His first appeals to strategic autonomy came at a time when the Trump administration was unleashing a trade war on the EU and China, attacking European states for freeriding on security guarantees and hitting them with secondary sanctions in relation to business in Iran. Despite the current close cooperation with the US on European security, his remarks can also serve to remind the EU that the US has been trying to shift strategic attention to Asia for over a decade and that a less transatlantically-minded administration may well enter the White House in 2024.
Russia's war on Ukraine has, of course, multiplied the stakes for European security. The EU demonstrated relative unity in its response, not least with unprecedented sanctions and the first-ever jointly-financed military support under the European Peace Facility (EPF). However, the question of how best to manage the direct and indirect costs of the war, from energy crisis to inflation, has proven divisive. The pressing challenges the EU is facing have not gone away; deep rifts about migration and asylum policy, the need to define a strategy towards China, management of the climate crisis, and all but forgotten, the rule of law crisis within the EU. The need for a comprehensive strategic agenda remains.
Whose "Zeitenwende"?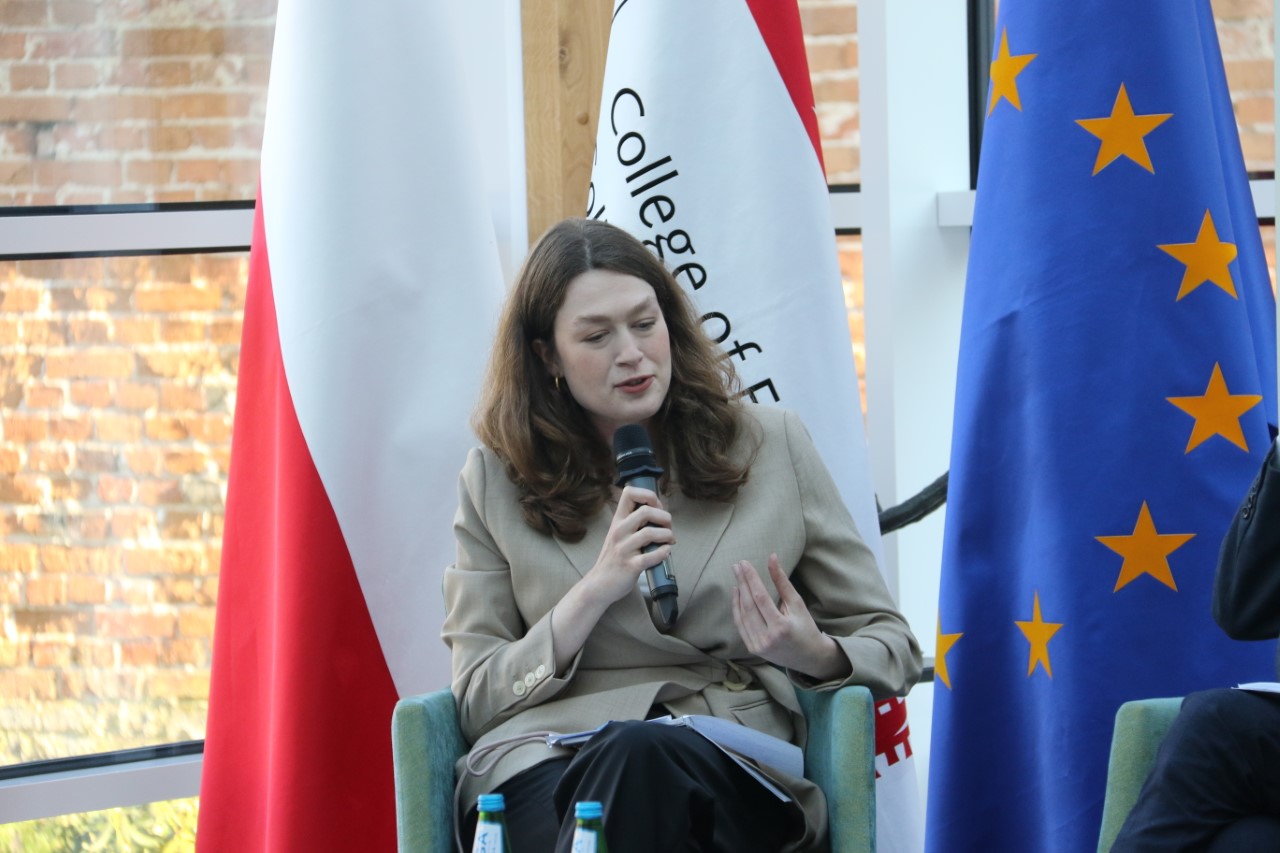 Russia's attack on Ukraine in February 2022 has led to a reorganisation of the European security architecture. In Germany, the reassessment of foreign and security has been packaged under the label of "Zeitenwende", coined by Chancellor Olaf Scholz's famous February 27, 2022 speech, in which he announced the authorization of weapons exports to Ukraine (his government had been staunchly against weapons exports to active conflict sites) as well as a 100 billion euro off-budget fund to rebuild Germany's chronically underfunded military. Within a year, Germany drastically reduced its dependence on Russian gas imports. Behind the rhetoric, however the coalition government failed to meet NATO's 2% GDP defence spending commitment in 2022, and will likely miss the target again in 2023. It has not spent a dime of the new special budget. Scholz's slow, taciturn, at times stubbornly personalistic leadership style has irritated coalition partners including Green Foreign Minister Annalena Baerbock, as much as it has Allies, including the US during the stand-off around the delivery of Leopard tanks to Ukraine.
From the view of the Northern as well as Central and Eastern European Member States, this forced rethink was a "We told you so" moment. At the latest in response to Russia's illegal annexation of Crimea, their Western partners, above all Germany, could have dropped their rose-tinted post-Cold War glasses and illusions about cooperation projects with Russia such as the Nord Stream pipeline (which was famously blown up in fall 2022). Eastern European and Baltic countries had been warning about the risks of dependency for years. Their hesitancy to jump on the 'strategic autonomy' train, in particular in security and defence policy, was rooted in fears that such initiatives could affront the United States and lead it to abandon its role as the key security provider for Europe. It hasn't.
The shock of the war also spurred a reorganization of security in the Nordics. Here, too, there was a "turning point" with the end of Denmark's long-standing opt-out from the Common Security and Defence Policy (CSDP) as well as Sweden's and Finland's non-membership in any formal defence alliance. In the meantime, Finland has acceded to NATO, adding an over 1,300 km direct border between NATO and Russia. Sweden is waiting for Türkyie's green light for its own accession.
Shifting towards the EU as a Third Pole…
"Strategic autonomy" "strategic sovereignty", "open strategic autonomy", and "capacity to act" --after years of following these semantic debates, rest assured that they refer to roughly the same vision. One of an EU that can work with its partners whenever possible but alone when it needs to, important not only in the field of security but also in economic policy, finance, technology, and so on. I have argued elsewhere [i] that the debate would benefit, in fact, from focusing on the areas in which the EU already has considerable political and regulatory power, rather than solely focusing on a military dimension.
When Macron first laid out his vision for Europe in the world in his famous Sorbonne speech, he was met with criticism. Nonetheless, the EU made large strides in security and defence integration with initiatives like the European Defence Fund and PESCO. Member States in the East remained sceptical of the concept, mainly for fear of angering the US.
Some of those Member States have also shifted their geopolitical views since the initial debates. For example, the three Baltic states' relationship with China has grown icier. After a series of confrontations, they successively left the "17+1"-Cooperation-Format (now a mere "14+1"). But they had been right about their assessment of an aggressive Russia as the largest threat. The fact that is raging an atrocious war right next to their borders means that now is certainly not the time to demand emancipation from the US. Unlike Macron, they do not see Europe as a "Third Pole" between the US and China. Rather, they would subscribe to Western Unity, perhaps extended by like-minded, democratic partners against autocracy and aggression.
… or a new EU centre of gravity in Warsaw?
Macron's grandstanding might also have been a reaction to a different development – a perceived shift of the EU's centre of gravity to the East, where Warsaw has become one of the most trusted partners in EU security and joint support to Ukraine. Suddenly, Poland's confrontation with Brussels over the erosion of the rule of law has become much more muted. Poland has established itself as a trustworthy Ally. This is much unlike its temporary partner Hungary, which blackmailed the EU to disburse its recovery funds or block Ukraine support, and recently struck a new gas supply deal with Putin's Russia. In some recent crises of the EU, Germany emerged as a leader. In this crisis, it is Germany's own weaknesses and mistakes that are exposed. Macron, while busy jetting around the globe, is confronting dire resistance at home. In this context, the old Member States appear less capable to lead. Poland, in contrast, has been one of the loudest supporters of Ukraine. This leads some to conclude that the centre of gravity of the European Union, particularly one that is further enlarged, is about to shift eastward. The Weimar Triangle (France, Germany, Poland) is out, and the Lublin Triangle (Poland, Lithuania, and Ukraine) may be the future.
Differing visions amongst Weimar Friends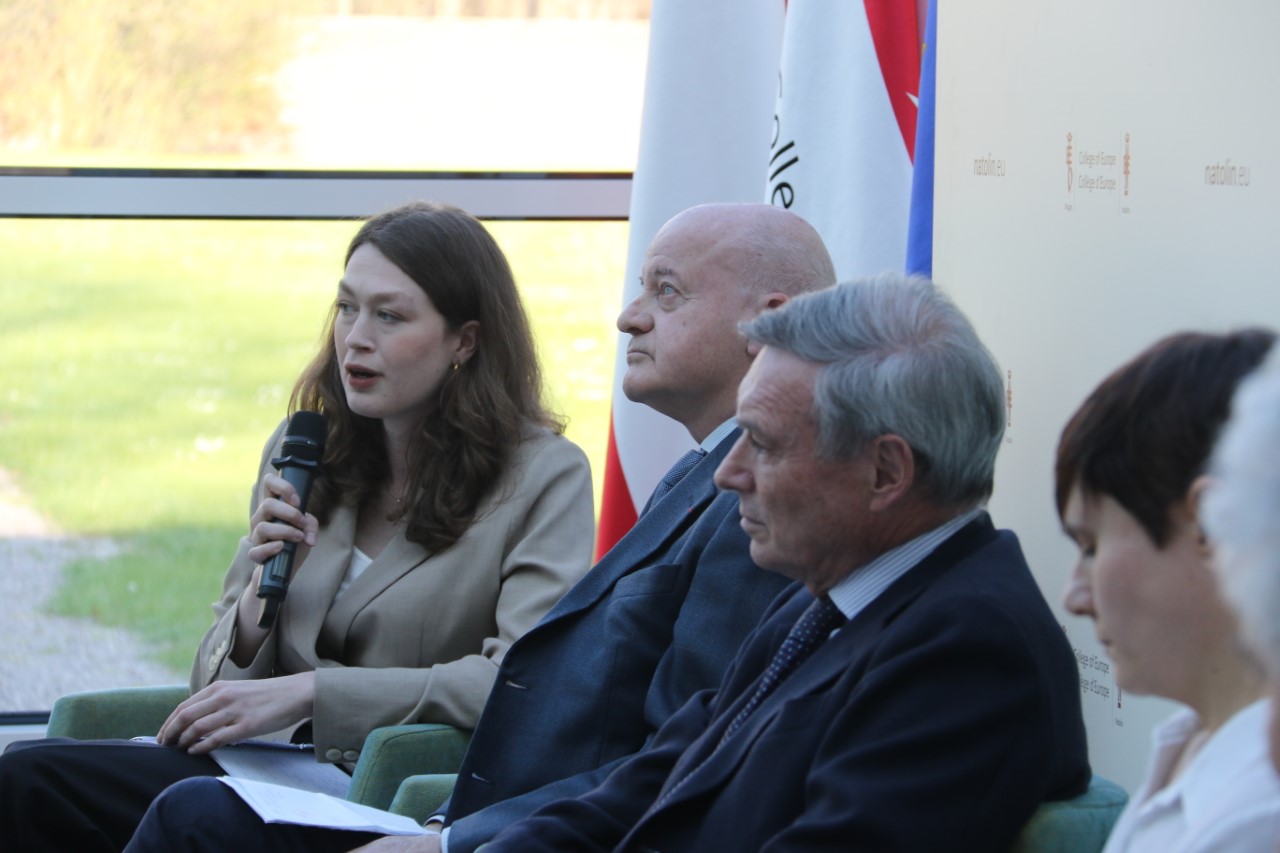 Although the last meeting of the Weimar Triangle in February was intended to demonstrate that unity remained, the visions for the EU that those three countries foresee differ. In Macron's famous Sorbonne speech, he laid out an ambitious agenda that was met with relative German silence. Last year's May 9th speech called for wide-reaching institutional reforms and, in a departure from the EU's long-standing neighbourhood and enlargement arrangements, a new coordination format in the form of a "European Political Community".
A few months later, German Chancellor Olaf Scholz's speech at the Charles University in Prague was hailed as an overdue German response. While the rhetoric was grand, the proposed ambition was low. The speech contained few innovative proposals, reiterating many policy lines that have long been on the agenda but whose implementation remains unlikely, such as introducing quality majority voting (QMV) in foreign policy decision-making.
In a recent speech at the University of Heidelberg, Polish PM Mateusz Morawiecki completed the Weimar canon of lectures in historical academic settings. Unsurprisingly, the vision for a future EU from Poland is one focused on national sovereignty, avoiding any deepening of integration, and not hesitating to dig at Germany over the dispute regarding World War II reparations. His vision is one of culturally and politically distinct nations, not determined by what he snubs as 'European élites', and focused on less rather than more integration. This makes for incompatible visions amongst the Weimar Friends.
Outside-In: Recalibrating the EU's Neighbourhood and enlargement policy
Where Morawiecki rejected "deepening", he did support "widening," by extending the EU from 27 to 35 after the integration of the long-term "Western Balkans Six" candidates and new candidate countries Moldova, Ukraine, and (if it implements the Commission's recommendations) Georgia. Such a widening would however not foresee any reforms of the EU's institutional workings. This is the opposite of Scholz's position, who had highlighted that any integration would depend on a successful internal reform.
The rejection of the EU's individual rights and rule of law agenda by some Member States adds to the scepticism from some against integrating new members. If the EU is already facing a crisis over the definition of its values and the rule of law internally, why should it import more countries that face their own issues with democratic backsliding and rising autocratisation? Hungary, for example, pushes for a speedy integration of Serbia, which has been on a staunch path of democratic backsliding and cosying up to autocrats elsewhere in recent years under President Aleksandar Vucic. Conveniently, the EU Neighbourhood and Enlargement Commissioner Oliver Varhelyi is a friend of Viktor Orbán, and, according to the European Parliament, not exactly strict on the rule of law and democratic reforms in candidate countries.
EU external governance relies on bringing the "inside-out" [ii] d creating a "ring of friends" around itself. But the "ring of friends" has increasingly been challenged by a "ring of fire". And the EU itself is facing more and more fire from within. The EU needs to simultaneously address the reconfiguration of a neighbourhood that it had previously conveniently divided into a backyard of soon-to-be members and a pool of more distant neighbours and associates all the while being put to the test internally. This will be a massive challenge.
The recent recalibration has also re-awakened the dormant enlargement policy from its long slumber. Many important policy priorities that were long-stalled, blocked or not even on the agenda – launching accession negotiations with North Macedonia and Albania, candidate status for Bosnia and Hercegovina, and visa liberalization for Kosovo – have been achieved in the past year. This was a consequence of the decision to grant candidate status to Ukraine and Moldova and a European perspective to Georgia. Now the EU "just" needs a mid-and long-term vision for European integration.
Mobilizing the EU's pull power
Although the EU declared its geopolitical ambition already with the beginning of this Commission's term in 2019, Russia's war on Ukraine meant it has had to face up to its responsibility. Although the response demonstrated surprising unity, more than a year since the start of the large-scale aggression, the EU's underlying strategic, political and institutional vulnerabilities remain. Resolving the conundrum of how to deal with its neighbours outside will require some hard conversations about internal misgivings. Defining future strategies across policy sectors will need to go in parallel with crisis management.
Framing a crisis as an opportunity has become a cliché in EU affairs. But to manage other recent crises, like the debt crisis or the migration crisis, the EU has previously exercised a regulatory push, attempting to centralise decision-making and getting member states to adjust. In this crisis, it is instead demonstrating its normative pull – the appeal of its values and model to the outside. This can be an opportunity for a future vision.
Serafine Dinkel is a Marie Skłodowska Curie Doctoral Fellow at the Université libre de Bruxelles, the University of Warwick and the University of Amsterdam. She is also an Associate Fellow for the German Council on Foreign Relations.